Children's Vaccines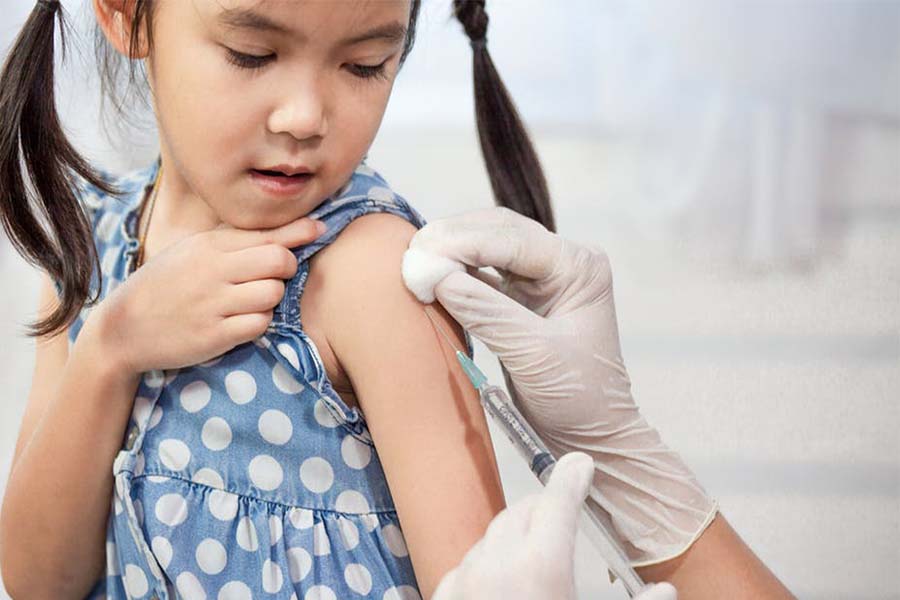 The goal of this immunization is to reduce child mortality, morbidity, and disability associated with vaccine-preventable diseases. The following is a Vaccination schedule recommended for children by the Government of Nepal, Ministry of Health & Population.
Our Recommendations
Influenza Vaccine
We recommend Influenza Vaccine for people of all ages from 6 months of age. Children younger than 9 years of age who have neither been vaccinated nor infected by influenza should get two doses of the vaccine at an interval of at least 4 weeks.
Learn More about Influenza Vaccine …
HPV (Human Papilloma Virus Vaccine)
We recommend HPV Vaccine for females from 9 to 45 years of age for the prevention of cervical cancer. We also recommend for males to prevent infections caused by Human Papilloma Virus. Females between 9 and 14 years of age require 2 doses of the vaccine. The second dose has to be administered between 5 and 13 months after the first dose. A third dose should always be administered if the second vaccine dose is received before the 5th month after the first dose.

For individuals 15 years and above, 3 doses of HPV vaccine is required. The second dose must be given 1 month after the first dose and the third dose must be given 6 months after the first dose.
PCV (Pneumococcal Conjugate Vaccine)
PCV (Pneumococcal Conjugate Vaccine) is provided for the prevention of pneumonia in infants and children from 2 months to 5 years of age.
Meningitis Vaccine
Meningitis Vaccine (Menactra) is indicated for active immunization to prevent invasive meningococcal disease caused by Neisseria Meningitides serogroups A, C, Y and W -135. It is approved for use in an individual who is above 9 months of age. In children from 9 to 23 months of age, Menactra is given in 2 doses (0-3 months). Individuals aged 2 to 55 years of age receive a single dose.
Typhoid Vaccine
Typhoid Vaccine is recommended against typhoid fever caused by the ingestion of contaminated food and water. Currently, two types of Typhoid vaccines are available at Clinic One: TYPBAR and TCV (Typhoid Conjugate Vaccine).
TYPBAR is provided for both adults and children of 2 years of age and older. Individuals who remain at risk of typhoid fever should be given a single booster dose of the vaccine with an interval of not more than 3 years.
TCV is provided to infants of 6 months and older, and children from 3 years and older.
Varicella Vaccine (Chicken Pox Vaccine)
Varicella Vaccine is provided for protection against chickenpox.
The varicella vaccine is given when the kids are between 12 to 15 months old. At 4 to 6 years of age, they are given a booster shot for protection
Kids who are older than 6 years but younger than 13 years who have not have chickenpox also may get the vaccine, with two doses given at least 3 months apart.
Kids 13 years or older who have not had either chickenpox or the vaccine need two vaccine doses at least 1 month apart.
Hepatitis A
Hepatitis A Vaccine is indicated for active immunization against hepatitis A virus in children above 1 year of age.
Hepatitis B
Hepatitis B Vaccine is given for protection against Hepatitis B Virus. It should be given to infants on the schedule of 6, 10 and 14 weeks, but it can be given at any time, provided that the second dose is given after 1 month of the first dose and the third dose is given after 6 months of the 1st dose.
More about Hepatitis B Vaccine..

Call Clinic One Kathmandu at 01-5009233 | 9863393960 or email us at info@clinicone.com.np for appointment and inquiry.